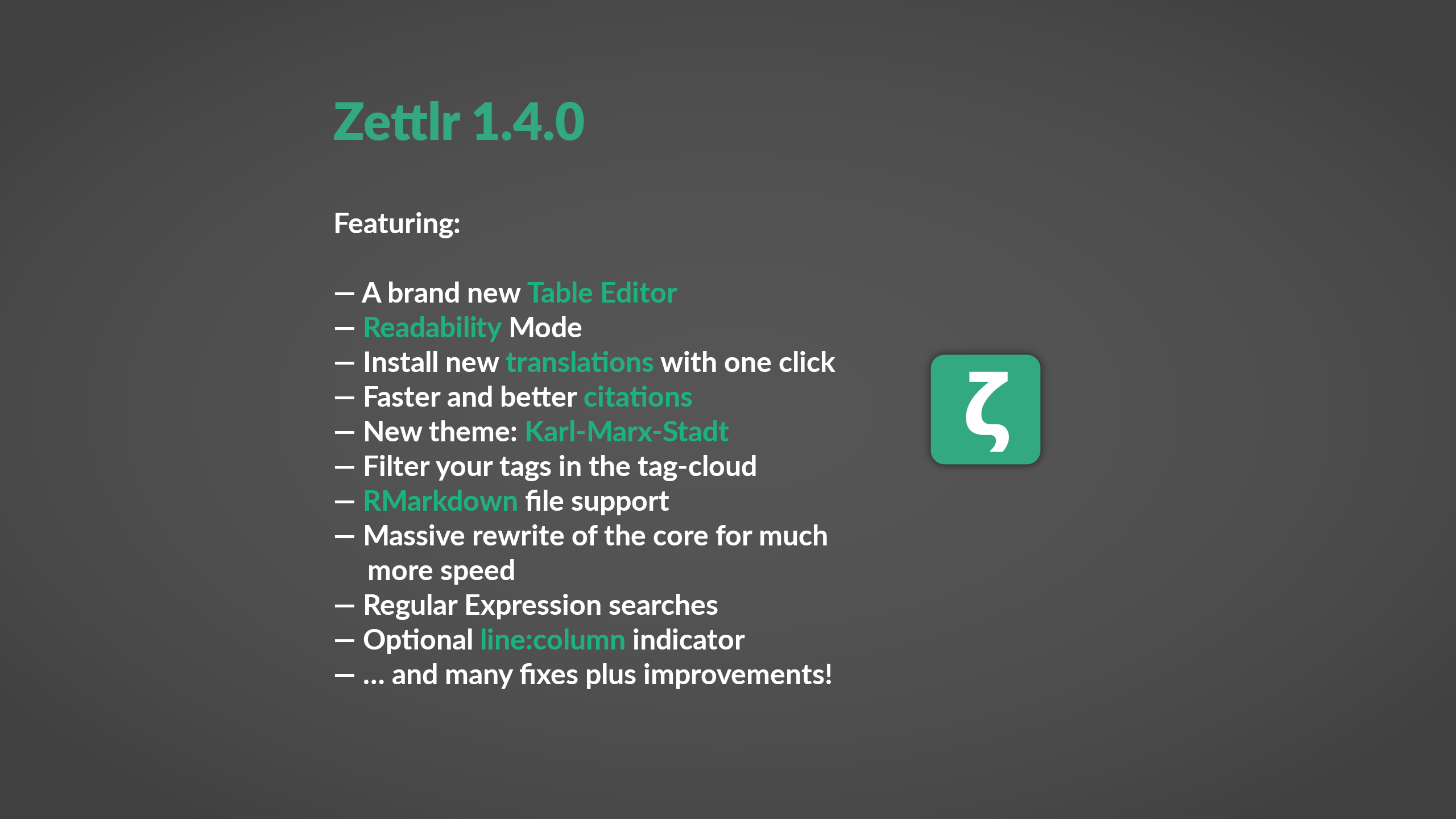 Zettlr 1.4.0 released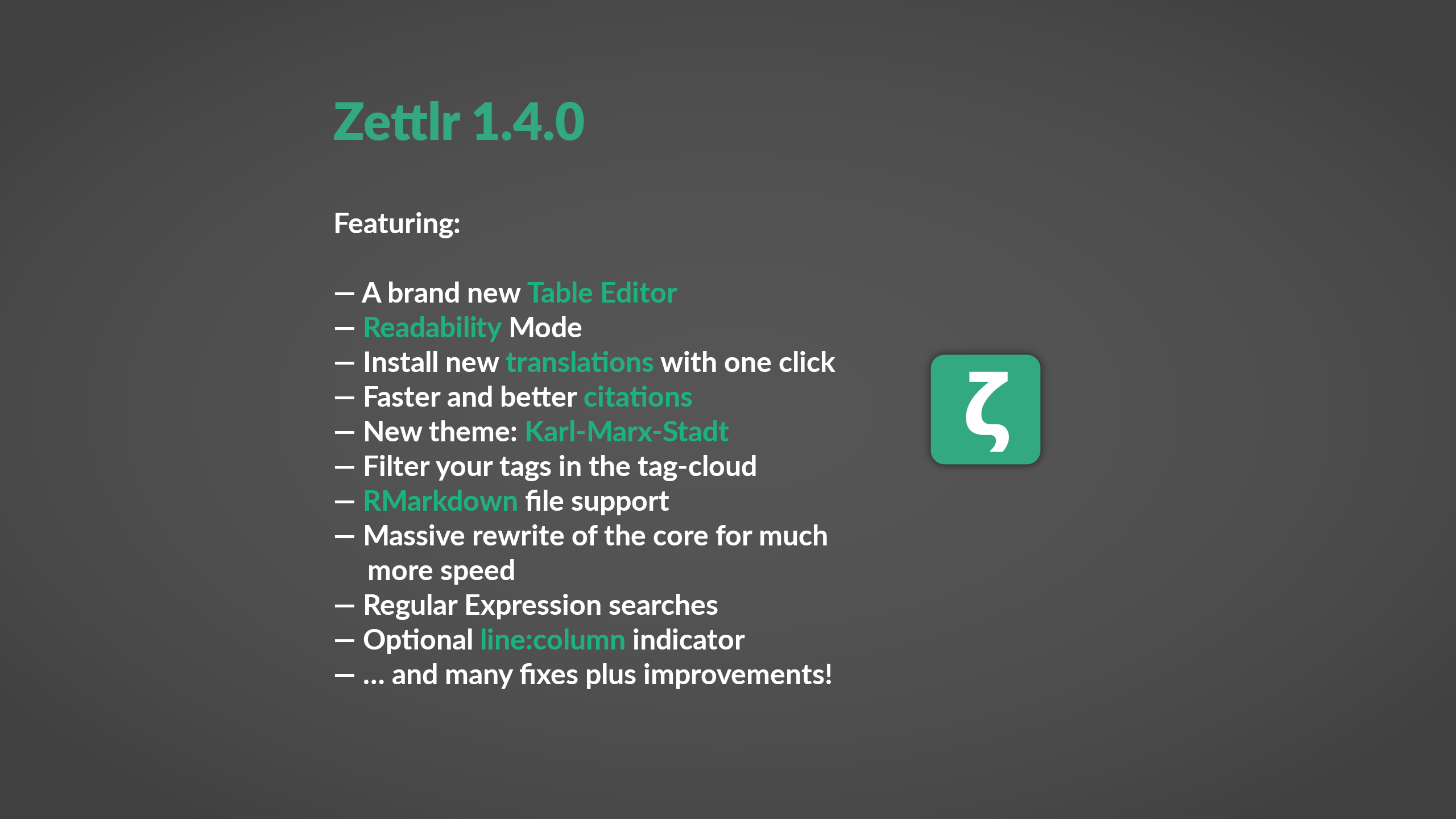 ---
It's been quite some time — three months, to be exact — since the last release, and much has happened since. We've been busy doing a lot of work under the hood which you might only notice by the app being significantly faster than before. It's taken this long as we've rewritten several core components for improved speed: The file management core, which is now asynchronously, so that you don't have to wait until everything is loaded before the app appears. Additionally, we've rewritten the sidebar. It's now vue.js-based and handles just about everything better than the old one. Apart from these major rewrites, we've also rewritten and improved upon a lot of small components. For instance, you can now reference capturing groups in your search if you perform a regular expression search. We've also written this article introducing the feature when the beta phase for 1.4 began.
But our changes are not limited to rewritten core components, we've also added a lot of functionality. For instance, 1.4 includes a so-called readability mode, helping you to make your texts more readable. If you're interested, we've prepared this beautiful page to introduce you to this powerful feature and give you tips on how to use it. The readability mode will greatly improve your writing-skills and make it easier to tailor your texts to the intended audience.
Another huge module we've added to the app is a brand new table editor. It's a small feature that renders all Markdown tables from your file. Using the editor, you'll get a super helpful tool to create even large tables with a lot of content without having to worry about line-breaks and ugly formatting issues. For more information on how to use it, have a look at our comprehensive documentation on the table editor.
Apart from these major improvements to a lot of essential areas of the app, we've also focused on making existing features much easier to handle. For instance, until 1.3 you'd have to manually install translations from Zettlr Translate, and, to make things worse, you'd have to manually update them from time to time as well. This was clearly not user-friendly, so what we've done for Zettlr 1.4 is integrate the translation API deeply with the app. This means that you can now download any language right from within the translation-settings in the preferences! Simply click the language you'd like to download, and Zettlr will take care of the rest. And don't worry if your language gets updated: Zettlr automatically checks if your translations have been updated on start (given a working internet connection) and automatically downloads them. You only need to restart the app once to apply the new translation.
On top of all of these great new features, we've also fixed a lot of things and improved the overall user experience, so to get the full list, please consult our Changelog to see the full list of everything that's changed! As always, we would like your feedback and new feature requests, which you can discuss on our forums prior to opening up a GitHub issue asking for implementation. We think it's a great thing to slow down on our release cycle, both because it makes it more exciting once a release is announced and it gives us more time to thoroughly test out the new version to make sure it's as stable as it can possibly get!
While Zettlr is nearing its second birthday, we would like to reiterate that we really appreciate your support for the last two years, and we'll continue to improve the app over the next years, because after release is always before the next release! Kudos to all of you!
If you like to support us, we would kindly like to ask you to consider a monthly donation over at Patreon. Each and every patron will be listed on our supporters page; and, if you consider donating at least $25, you'll even be named in our app! You can also send a one-time donation via our PayPal account. Thank you very much!
And now: Let's head on to the road to 1.5!